How the church played a role in the fight for voting rights.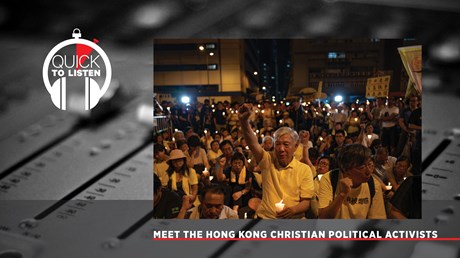 In April, nine Hong Kong activists were convicted for participating in the pro-democracy Occupy Central and Umbrella Movement protests. One of those was a Baptist pastor, Chu Yiu-Ming.
In the courtroom, he painted a vivid picture of the faith that had transformed his life and inspired his activism: "We have no regrets. We hold no grudges, no anger, no grievances. We do not give up," he said, speaking on behalf of fellow activists striving to bring universal voting rights to Hong Kong. "In the words of Jesus, 'Happy are those who are persecuted because they do what God requires; The Kingdom of heaven belongs to them!'" (Matt. 5:10)
Our coverage of Chu's sermon was one of CT's most popular news stories of the year so far, with many on social media praising his bravery.
Chu was not the only leader known for his faith. Earlier this month, Joshua Wong, a 22-year-old Hong Kong pro-democracy activist, was returned to prison. Earlier he told World Magazine:
As Christians, we are not only responsible for preaching the gospel and then waiting to go to heaven when we die. We need to be bringing heaven down to earth. That seems like a totally idealistic dream, but if we want that dream to come true, how should we let people know that as Christians we don't focus only on trying to increase our salaries and better our careers? We ask, how can we do more for the people around us?"
The Umbrella Movement and Occupy Central Protests have not been welcomed by all Christians. Several years ago, Archbishop Paul Kwong at the Anglican St. John's Cathedral angered many Hong Kong Christians after saying that pro-democracy activists should remain silent, as Jesus did while being crucified …

Source: Christianity Today Most Read