Today's fights over the religion in the public square are replays of fights from two thousand years ago.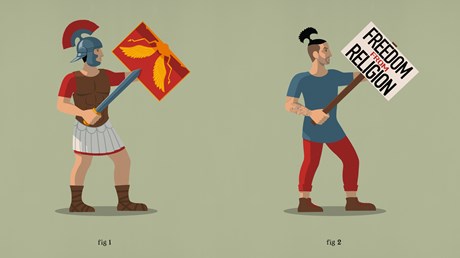 In The Idea of a Christian Society (1939), T. S. Eliot saw a conflict between Christianity and paganism shaping the 20th century. Steven D. Smith's Pagans and Christians in the City applies Eliot's map to today's culture wars, especially in the United States.
It's common to portray the culture war as a battle between people who favor a public role for religion and people who want to keep religion locked securely in the private realm. Smith argues, however, that our frameworks and language obscure a deeper reality: The real fight isn't between religion and secularism, but between two kinds of religion. His book makes the case that today's culture war shares much in common with the culture war that rocked ancient Rome.
The Romans were pragmatic and worldly, yet they believed their greatest strength was devotion to the empire's gods. This was evident in public rituals, architecture, the role of divination, and the military. Rome, in short, was a "city of the gods."
The paganism of Rome treated the world itself as sacred. But Christianity introduced a radically different perspective. Christians—while affirming the world's goodness—located the sacred in another world altogether. In other words, paganism was an immanent form of religiosity, while Christianity embraced the transcendent.
Take, for instance, their competing approaches toward sexuality. For the Romans, sex provided pleasure and progeny, but they also viewed it as a divine imperative that shared in the energy of the universe. (Some pagan religious festivals included sex shows.) Christians did not claim that sex and reproduction were wrong, though Augustine and others insisted that sexual desire in …

Source: Christianity Today Most Read