Demonic lies hide as truth. They also lurk close to home.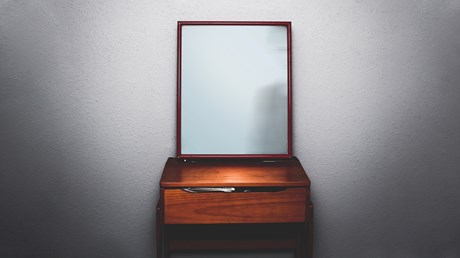 I stood before the dazed librarian as she scanned each questionable title: The Death of Satan, I See Satan Fall Like Lighting, By Authors Possessed, the books about demons piling up before her. I remember my discomfort and lame apologies about what appeared to be a sinful attraction to evil. This was a Christian university library, after all, and I had a stack of demonic literature rising to evil proportions at the checkout counter.
A similar discomfort confronts me now when I sign the author's page of my book Giving the Devil His Due—its cover depicting a half-naked demon donning a red cape. Or when a radio personality invites me on his show in the hopes that I will denounce America's absorption with that "demonic" holiday Halloween. Extended family members often confess their demonic encounters to me, trying to convince me that The Screwtape Letters is no mere caricature but the accurate epistolary adventures of an ancient monster.
Most discomfiting of all, I have stood before an audience of nonbelievers numbering in the hundreds and begged, "Please, for the love of all that is holy, do not listen to any little voice inside you; it may be the devil's." I can hear everyone thinking, What's a nice girl like you doing reading and writing books like this? Instead of comfort, I have chosen to prize truth, in imitation of the two writers I admire most—Fyodor Dostoevsky and Flannery O'Connor. Both of them give the devil his due in order to save us from losing our souls.
The demonic has been a literary trope for centuries—think Milton's Satan in Paradise Lost, Mephistopheles from Faust, or somewhat recently I, Lucifer. So, when I began writing a book about …

Source: Christianity Today Most Read