Christianity was once viewed as an expression of colonial power. More recently, it's become countercultural.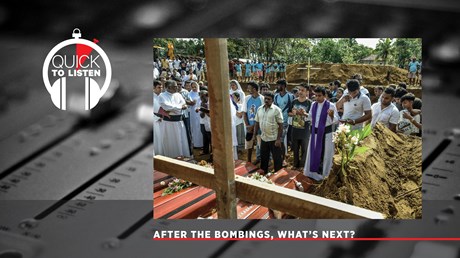 Nearly 300 people are dead after Muslim suicide bombers attacked three churches and three high-end hotels on Easter Sunday this week. Christians—the majority of whom are Catholics—make up less than 10 percent of the population of the majority-Buddhist nation and have reported escalating concerns about their religious freedom.
Christian persecution has largely come at the hands of Buddhist radicals, so the church has largely responded to the attacks with shock, says Ivor Poobalan, the principal of Colombo Theological Seminary in Kohuwala (Colombo), Sri Lanka.
"We expected the threat or danger to come from those quarters," said Poobalan. "Islam has been around for over 1,000 years and has never been violent."
Poobalan joined digital media producer Morgan Lee and theology editor Caleb Lindgren to discuss how Christianity arrived in Sri Lanka, why the faith has long been associated with privilege, and how he hopes the church will respond to the bombings.
This episode of Quick to Listen is brought to you by the MA in Humanitarian & Disaster Leadership program at Wheaton College Graduate School, preparing leaders to serve the most vulnerable and the church globally. For more information, go to wheaton.edu/HDL.
This episode of Quick to Listen is brought to you in part by Bloodline, the new book by Skip Heitzig, gives you an up-close view of the cross that reveals God's ultimate mission to save you from sin's destruction. Bloodline is available wherever books are sold.
What is "Quick to Listen"? Read more
Subscribe to Quick to Listen on Apple Podcasts
Follow the podcast on Twitter
Follow our hosts on Twitter: Morgan Lee and Caleb Lindgren
Reach Ivor Poobalan at ivor@cts.lk
Music …

Source: Christianity Today Most Read