What makes a college "evangelical" or "fundamentalist?" The dividing lines weren't always so clear.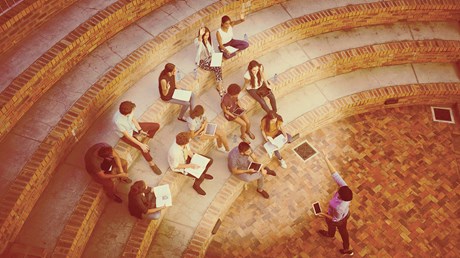 Let's say you attended Wheaton College, Gordon College, or Biola University. Or perhaps you're an outsider who just thinks highly of those schools. If so, you might be turned off by a book that groups them together under the label "Fundamentalist U." Don't be.
Adam Laats, professor of education and history at Binghamton University and author of Fundamentalist U: Keeping the Faith in American Higher Education, knows the difference between an evangelical and a fundamentalist. He knows, too, that it can be very hard to tell that difference, especially before the 1970s. Using the example of Wheaton, Gordon, and Biola (along with Moody Bible Institute, Bob Jones University, and Liberty University), Laats attempts to identify the distinct nature of non-denominational, fundamentalist-evangelical higher education in the 20th century. And he succeeds admirably.
Peculiarities of Definition
Fundamentalist and evangelical colleges have long grappled with many of the same issues faced by other institutions of higher education: the early 20th-century academic revolution, changing standards of accreditation, a post–World War II boom in enrollment fueled by the GI Bill, the moral upheaval of the turbulent 1960s, and the rise of campus protests.
But fundamentalist-evangelical higher education has also dealt with a distinct set of challenges: how to train missionaries, how to maintain codes of student conduct in keeping with fundamentalist mores, whether (or how) to remain true to dispensational premillennialism, how to maintain doctrinal purity, and how to quash leftist radicalism in favor of traditional and conservative Americanism. As Laats observes, "[Fundamentalist colleges] expected to do all the …

Source: Christianity Today Most Read