Why we need to remember the God-given language of music.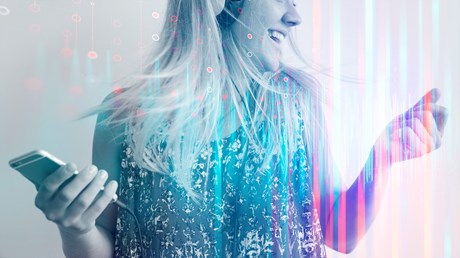 When my nine-year-old daughter communicates with me about something that happens in her day at school, she uses gestures, eyebrows, words, and inflections to try to get the story from her heart into mine. For a child, everyday conversation is something more like singing than talking. Music, relationship, and storytelling are three strands of the same cord.
Sometimes it seems we have forgotten our childlike ability to sing. But even when we are silent, there are thousands of love songs streaming on the radio. There's evocative orchestration beneath the scenes in our favorite movies. Songs are ubiquitous, yet we have forgotten how to speak the language of music.
You may not think of yourself as a singer. But if we can suspend all judgments about what makes a good vocalist, there is something irresistible about it. Singing is part of what it means to be human. You don't have to sing a solo on a stage, but all creation is invited to join in the song back to the God who made us. When we sing, we engage our affections, not just our speech.
Ephesians 5:18–20 contrasts the intoxication of wine with the intoxication of worship. Beyond the pull of pop radio and movie orchestrations, this text affirms that God has designed us for rich, emotional expression. Before school, on our way to work, at weddings, or beside a hospital bed—we are called to sing our gratitude to God at all times for all things:
Do not get drunk on wine, which leads to debauchery. Instead, be filled with the Spirit, speaking to one another with psalms, hymns, and songs from the Spirit. Sing and make music from your heart to the Lord, always giving thanks to God the Father for everything, in the name of our Lord Jesus Christ.
Have we forgotten …

Source: Christianity Today Most Read