Who is this sect? And how has the church responded to this community?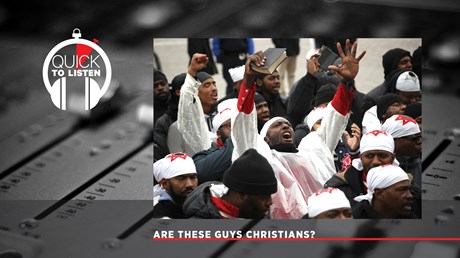 Videos from last Friday's March for Life and the Indigenous People's March have been the subject of intense debate. In footage from a clip filmed in front of the Lincoln Memorial on Friday, high school students, some wearing Make America Great Again hats, appeared to be in a faceoff with a Native American elder. The footage went viral, as many on social media condemned the boys' apparent actions.
Shortly thereafter, a new video showed a group of half a dozen Hebrew Israelites berating and using insults that seem to come out of the Old Testament to the same high schoolers and the Native Americans at the event for more than an hour. For many Americans, this was their first encounter with this sect, started by two African Americans in the late 19th century.
Despite the Scripture references that many members of the Hebrew Israelite community drop in public, Christians should avoid engaging the Hebrew Israelites should they encounter them on the street, says Lisa Fields, the founder and president of Jude 3 Project, an apologetics ministry focused on serving the black community.
"You're not usually going to get any headway because they're going to be very insulting, very loud, and no matter what Scripture you present, they're going to counter it with something else," said Fields. "… I find the most effective way to engage is one on one. In a crowd of people, even if you are making some headway or one person is listening to you, the group is going to feed them so they're not going to show that you're breaking through at any point."
Fields joined digital media producer Morgan Lee and theology editor Caleb Lindgren to talk about where the Hebrew Israelite …

Source: Christianity Today Most Read