There's something missing from Oxford's splendid new Tolkien exhibit.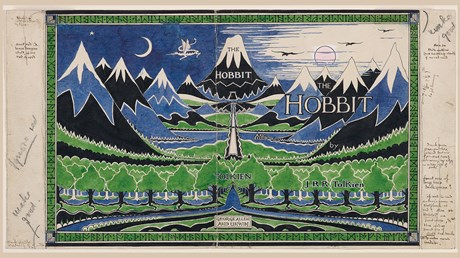 Who was J. R. R. Tolkien? Nearly everyone knows him as the author of two of the most beloved books of the 20th century: The Lord of the Rings and The Hobbit. Many also know him as a member of the Inklings and a close friend of fellow writer and scholar C. S. Lewis. Fewer know Tolkien's work as a literary critic, a world-class academic in medieval literature, a linguist, an inventor of languages, and a visual artist or realize that he was also a devoted husband and father.
Much of this is captured this year in a nearly comprehensive exhibit at Oxford University's Bodleian Libraries on Tolkien's life and legacy. "Tolkien: Maker of Middle-earth" has been billed as the exhibit of a generation, and it is indeed that. But there's a glaring omission: any mention of the author's devout, lifelong Christian faith. Without that piece, we cannot have a true picture of Tolkien.
The Missing Piece
The exhibit is certainly the most well-rounded portrayal of Tolkien to date. We see his imaginative capacity expressed in nearly overwhelming abundance, and we see a tender glimpse of his childhood and of his family life with his wife, Edith, and their four children.
The aim of the exhibit, as expressed in the catalog book, is "bringing to the public's attention the fullest picture possible not just of the life and work of a remarkable literary imagination, but of a son, husband, father, friend, scholar and artist."
To that end, it comes close but misses the mark. The exhibit downplays Tolkien's religious commitment so completely that it is well-nigh invisible. Yet Christianity was a constant presence throughout his life, and not just in a nominal or cultural sense: Tolkien really believed, …

Source: Christianity Today Most Read