John Winthrop's "city upon a hill" language wasn't meant to puff up his hearers with pride but to send a chill down their spines.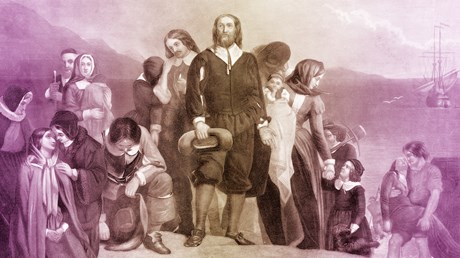 Ronald Reagan understood the power of metaphor. From his stirring election-eve speech in 1980 to his moving farewell address eight years later (and in more than 30 instances in between), the "Great Communicator" challenged the United States to be a model to the world of freedom, justice, and opportunity—a "shining 'city upon a hill.'" Reagan borrowed the phrase, he told his audiences, from "an early Pilgrim" named John Winthrop, who had employed the metaphor three and a half centuries earlier "to describe the America he imagined."
Reagan was wrong. But he was not alone. Winthrop's reference to "a city upon a hill" was part of a lengthy address titled "A Model of Christian Charity" that was written for a Puritan audience in 1630. While we often think of it today as a landmark document of our early history, the message attracted scant attention at the time and was little remembered for generations. Two centuries would pass before it was first republished in the United States and more than another century before it would gain a wide reading.
When Americans finally discovered Winthrop's message during the height of the Cold War, they ignored its larger historical context, dismissed the vast majority of the address, and zeroed in on a single passage, which they grossly misinterpreted. In a wonderful new book, As a City on a Hill: The Story of America's Most Famous Lay Sermon, distinguished intellectual historian Daniel Rodgers recaptures Winthrop's original meaning and explains why it's relevant to Americans today.
Under a Microscope
Rodgers begins by recreating the context in which Winthrop crafted his larger message. …

Source: Christianity Today Most Read