How the civil-rights hero honed his preaching skills and prophetic vision at a Northern liberal seminary.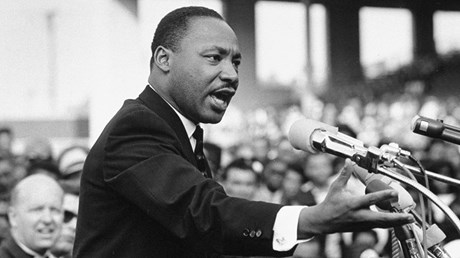 In this age of the blockbuster superhero movie, audiences have come to expect the hero's origin story. Why does he wear that cape? Where did she learn to fight like that? Why do they hide behind those secret identities?
Many recent superhero movies shuffle through the origin narrative as quickly as possible. Every so often, though, films will invest the time necessary to transform their protagonists from one-dimensional archetypes into flesh-and-blood human beings.
Most biographies of Martin Luther King Jr. have focused on King the civil rights icon, spotlighting his role from the Montgomery bus boycott onward. In The Seminarian, Patrick Parr instead gives us an extended look at the formative years of the preacher's postgraduate education at Crozer Theological Seminary near Chester, Pennsylvania, then a small, liberal-minded school of fewer than 100 students (less than a quarter of whom were black).
Parr is a wonderful guide through this pivotal season of King's intellectual development, spiritual formation, and youthful angst. We feel the young seminarian's anxiety as he arrives at a predominantly white school, we witness his encounters with the North's less flamboyant but equally treacherous brand of racism, and we experience the heartbreak of his short-lived romance with a white student.
From the vantage point of a Northern city, the Atlanta-born King began to reflect on the racial injustices of the Deep South and the cleansing potential of a liberal religious activism. This was King's first extended time in the majority-white world, and he felt obligated not to perpetuate stereotypes associated with Southern Negroes. Consequently, he worked hard to prove to his white professors and classmates …

Source: Christianity Today Most Read