A reporter's inside look at the team's Christian culture repeats some characteristic flaws of evangelical writing on sports.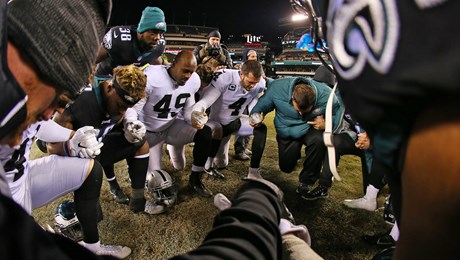 The annals of football are filled with "God squads," teams with widely publicized reputations for Christian faith. As far back as the 1890s, Yale football enthusiasts attributed the team's success to the number of "praying men" on the squad. The undefeated 1954 UCLA team, with over half the starting lineup involved with Campus Crusade for Christ, was nicknamed the "Eleven from Heaven."
And professional football has had plenty of teams with strong Christian contingents, too: the Baltimore Colts of the late 1960s, the Miami Dolphins of the early 1970s, the Washington Redskins of the 1980s and early 1990s, the St. Louis Rams circa 1999, and the Seattle Seahawks circa 2013, to name just a few. It would probably be more newsworthy if a successful football team did not have a handful of outspoken Christians than if it had a team full of them.
Still, despite the ubiquity of Christianity within football, in recent years the Philadelphia Eagles have stood out, especially after a viral 2016 video of five Eagles players getting baptized in the team's cold tub. The video spurred ESPN to cover the strong presence of evangelical religiosity on the team. And the following year the Eagles' reputation for conspicuous evangelical Christianity grew alongside their win totals, culminating with a Super Bowl victory and a slew of shout-outs to God in the post-game interviews.
With Eagles' testimonies already blanketing television, social media, newspapers, magazines, websites, and even Bible apps, it is only fitting that the team receives the evangelical book treatment. Rob Maaddi's Birds of Pray: The Story of the Philadelphia Eagles' Faith, Brotherhood, and Super Bowl Victory …

Source: Christianity Today Most Read