How Billy Graham got the mainstream media to broadcast God's message to the world.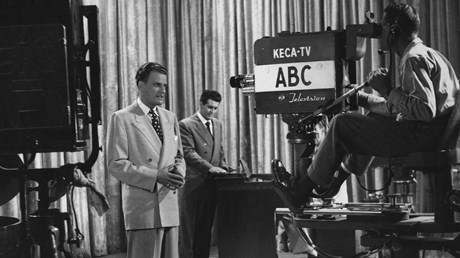 Billy Graham's ministry spanned more than six decades. He preached the gospel to more live audiences than anyone in history—nearly 215 million individuals in more than 185 countries and territories. Billions more were reached by media outlets around the world.
Preaching with "a Bible in one hand and a newspaper in the other" constantly put Graham at the intersection of faith and culture. He always contextualized his message, showing how the Word of God speaks to personal and societal problems in every era. He sought every means possible to reach as many as possible and had a progressive use of technology in all its forms: radio, television, film, satellite transmission, and the internet.
One of the distinctives of Graham's ministry was his ability to make positive points for the gospel in any media situation. He always had a policy of engagement with the press, which greatly increased his influence beyond crusade audiences.
Numerous and unique news opportunities provided print and electronic forums for Graham's message. In the absence of an official spokesman for evangelical Christianity, Graham was long perceived as a senior statesman and the perennial go-to authority for the media on issues regarding evangelism and the Christian faith.
"I've never believed the success of our work depends on or is a result of publicity," reads a wall plaque at the Billy Graham Center quoting the preacher. "However, I am convinced that God has used the press in our work, and that it has been one of the most effective factors in sustaining public interest through the years."
It's been said that an individual's reputation is how he is perceived today, while his legacy is how he will …

Source: Christianity Today Most Read