What to know about the controversy dividing 300 million Christians.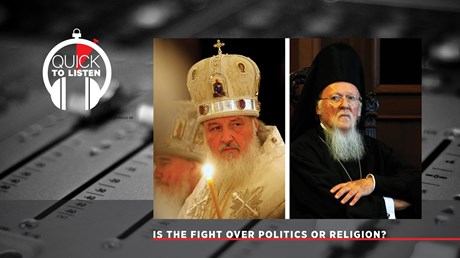 Last fall, the Patriarch of Moscow cut ties with the Patriarch of Constantinople. This action severed the world's largest Orthodox church from its historic home and launched a series of events that recently took a sharp turn.
Last week, the Patriarch of Constantinople offered the Orthodox Church of Ukraine independence from the Patriarch of Russia, actions that weren't greeted warmly by the Patriarch of Moscow. (Read CT's report.)
All of this is taking place in the context of a half-decade of conflict between Russia and Ukraine over Crimea. So is this church fissure over disagreements in doctrine or international politics?
One key to understanding it is understanding the concept of symphonia, or the Orthodox perspective of church-state relations. A 2016 CT article characterized symphonia as "institutionalized 'harmonious relations' between the Russian Orthodox Church and the Russian state."
"This intentional connection between church and state allows the Orthodox Church to enjoy all the attendant privileges of political preference and feeds into a uniquely Russian national identity," wrote Andrey Shirin, in "Russia: The Other Christian Nation."
Practically, it means that the Patriarch of Moscow and Russian president Vladimir Putin work closely together, says George Hancock-Stefan, a professor at Palmer Theological Seminary and contributor to Three Views on Eastern Orthodoxy and Evangelicalism.
"It behooves this unified front—Putin and the patriarch—to say, 'What is happening in Ukraine is something we don't like,'" said Hancock-Stefan. "Therefore Ukraine didn't like what the patriarch was doing and thus they …

Source: Christianity Today Most Read