Film relates the role of faith in the prestigious hospital founding but remains quiet about patients' own beliefs.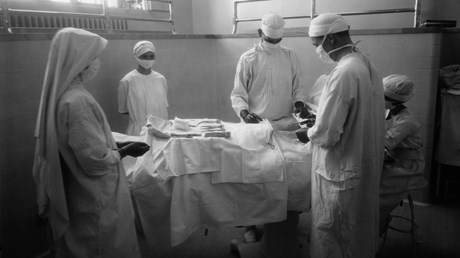 An immigrant doctor. A deadly 1883 tornado. And the unlikely partnership of a determined Franciscan Sister who had a vision from God to build a world-renowned hospital and the agnostic English physician who championed Darwin.
"How have I not heard this incredible story until now?!" I wondered during my first visit to the Mayo Clinic in Rochester, Minnesota, during a cold week in February 2010.
It had all the makings of a movie.
Clearly, Ken Burns felt the same way.
The prolific documentarian, captivated by the story while a Mayo patient, captures 150 years of Mayo Clinic history and stories in two hours in his latest film, The Mayo Clinic: Faith-Hope-Science.
As a Minnesotan living an hour from the top-ranked hospital system in the US, I've visited what has become a medical mecca for patients from 50 states and 150 countries on numerous occasions, supporting family members undergoing surgery and tests.
Having seen all 29 of Burns's films, I was thrilled to see this distinctly American—and dare I say, Minnesotan—story, told by "America's Storyteller" for a national audience on PBS last week. While unable to compete with the epic length of The Civil War, Baseball, or Jazz, The Mayo Clinic flows like an expression of gratitude, a praiseworthy hat tip from the filmmaker.
Backed by Burns's teams, talent and toolkit, the film unpacks Mayo's remarkable origin story and its enduring legacy of faith and science—a union guided both by the primary value the elder Dr. William Worrall Mayo instilled in his sons: "The needs of the patient come first," along with the Sisters of St. Francis who taught nurses "to treat every patient like Jesus Christ."

Source: Christianity Today Most Read