With photo booths for special occasions, Instagram-friendly congregations navigate the tension between sharing faith and showing off.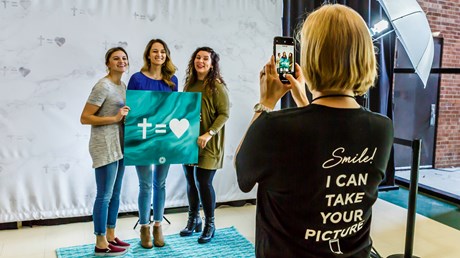 More Americans went to church yesterday, Mother's Day, than any other day in the past year besides Christmas and Easter. And thanks to church photo booths, more families than ever have the pics to prove it.
In recent years, Instagram-friendly congregations have offered themed photo backdrops for attendees to mark special occasions. For Mother's Day, Christians across the country posed in their church lobbies beneath floral garlands and colorful bunting, holding signs with messages like "We Heart Mom," then posted and tagged their snapshots on social media.
These photo setups took off at local churches with the rise of smartphones and selfies over the past five years, according to church social media expert Haley Veturis. She first started using branded photo backdrops—resembling the "step and repeat" banners used on red carpets—at a conference in 2012, then went on to incorporate them into special events at Rick Warren's Saddleback Church, one of the biggest megachurches in the country.
While churches pay more attention to branding, aesthetics, and engagement, particularly in contemporary non-denominational and seeker-sensitive contexts, Christians are caught between the instinct to capture meaningful moments in stylish church settings and caution over leveraging their faith for likes.
Like hundreds of other congregations, Piedmont Chapel in High Point, North Carolina, has used photo backdrops for special services since its launch in 2014, inviting attendees to smile beside a Christmas tree, hold signs with its Easter logo, and have their kids pose with costumed characters.
"We're always looking to provide value to peoples' lives," said Kendall Conner, …

Source: Christianity Today Most Read