White evangelical leaders applaud SCOTUS nominee's religious liberty credentials. That's not necessarily the litmus test for their brothers and sisters of color.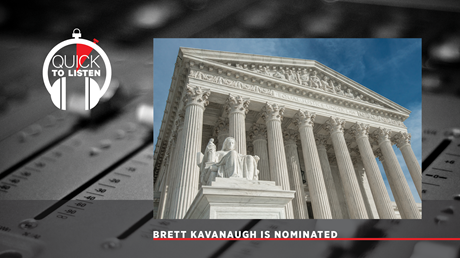 Christian conservatives praised President Trump's decision to nominate Circuit Court of Appeals Judge Brett Kavanaugh to replace outgoing Supreme Court Justice Anthony Kennedy.
The Southern Baptist Convention's Ethics and Religious Liberty Commission president Russell Moore declared that Kavanaugh would be a "strong defender of the freedoms guaranteed by the Constitution and Bill of Rights, especially our First Freedom of religious liberty."
"I pray that Judge Kavanaugh will serve for decades to come with a firm and unwavering commitment to our Constitution's principles," said Moore. "I join with Baptists and other evangelicals in calling upon the Senate to confirm Judge Kavanaugh without delay."
Others applauding Kavanaugh's nomination include Wheaton College Billy Graham Center executive director Ed Stetzer, Focus on the Family president Jim Daly, National Hispanic Christian Leadership Conference president Sam Rodriguez, the American Center for Law and Justice chief counsel Jay Sekulow, and many of Trump's evangelical advisors. (Read CT's report.)
But aside from Rodriguez's support, few evangelicals of color have lauded Kavanaugh's nomination, a reality which doesn't surprise Thomas Berg, a professor of law and public policy at the University of St. Thomas (Minnesota).
"A lot of black and Hispanic brothers and sisters will not appreciate the things that the conservative court is likely to do," Berg said. "These justices are more likely to restrict affirmative action. They're more likely to reject claims of voting rights. … White evangelicals haven't seen those as part of their agenda."
As Berg …

Source: Christianity Today Most Read