President Trump's appeal to fear ignores that Christians seek first the Kingdom, not political favors.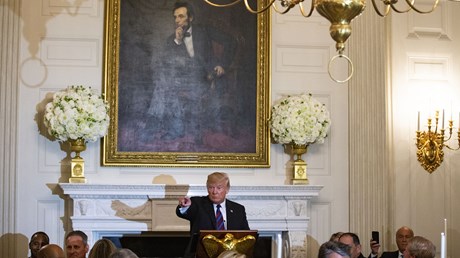 In a Monday meeting with evangelical leaders at the White House, President Trump reportedly warned of violence against conservative Christians if the GOP loses in November. Evangelicals, he said, were "one election away from losing everything."
As evangelicals, we would do well to correct the president on this point. If an election can cause us to lose everything, what is it exactly that we have in the first place?
Surely we can be grateful for any public servant who upholds the First Amendment. And we should applaud fellow believers who ply their education and experience as lawyers to defend religious freedom (as long as they don't seek to privilege Christianity legally above other religions).
However, the church does not preach the gospel at the pleasure of any administration or decline to preach it at another administration's displeasure. We preach at Christ's pleasure. And we don't make his policies but communicate them. It's not when we're fed to lions that we lose everything; it's when we preach another gospel. "What good will it be for someone to gain the whole world, yet forfeit their soul?" (Matt. 16:26).
And yet, swinging from triumphalism to seething despair, many pastors are conveying to the wider, watching public a faith in political power that stands in sharp opposition to everything we say we believe in. To many of our neighbors, the court chaplains appear more like jesters.
Something tremendous is at stake here: whether evangelical Christians place their faith more in Caesar and his kingdom than in Christ and his reign. On that one, we do have everything to lose—this November and every other election cycle. When we seek special political favors …

Source: Christianity Today Most Read