America's most progressive city—and the rest of our country—needs the voice of the local church now more than ever.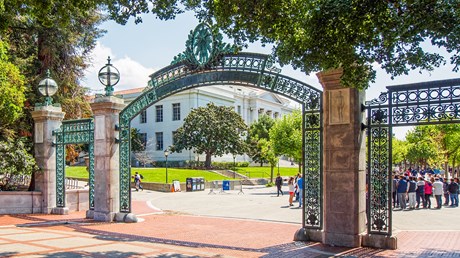 It's 2:30 on a Sunday afternoon and I'm trying to figure out who's more surprised: the SWAT team peering in at our congregation or our congregants staring back at the officers. We've heard helicopters whir and police sirens wail since our congregational meeting began, but the crowd of law enforcement staring through our sanctuary windows is new. This interruption is as a stark reminder of our church's adjacency to one of the most contentious places in the country today—UC Berkeley.
Built into the hillside of one of our country's most progressive cities, Cal Berkeley has been the epicenter of student activism since the Free Speech Movement of the 1960s, when student protesters persuaded the university administration to grant campus space for unrestricted political speech. This commitment is made explicit on the Free Speech Monument, a six-foot granite circle that greets those entering campus with this message: "This soil and the air space extending above it shall not be a part of any nation and shall not be subject to any entity's jurisdiction,"
UC Berkeley's promise of free speech has made it an increasingly sought-after space by a number of divisive speakers in the past year. Clashing protesters and counter-protesters have descended on the campus, their fights culminating in city and university property destruction, physical violence, and increased campus security. Last fall, students walked to class across a campus lined with barricades and peppered with police officers.
Like many cities across the country, our national political drama has pulled our local community into its polarizing, partisan narrative, where enemies are cast in terms of political commitments. …

Source: Christianity Today Most Read