A close look at the deadly church shooting, "Emanuel" reveals ruthless sin, scandalous mercy, and divides that persist.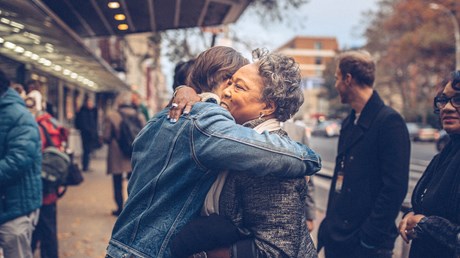 "Only five of us were left after the massacre," said Polly Sheppard.
In 2015, Sheppard was in the prayer circle at Emanuel African Methodist Episcopal (AME) Church when a 21-year-old white supremacist started shooting. The nation's deadliest racially motivated mass shooting at a place of worship took the lives of nine Christians she had worshiped alongside with for years: senior pastor Clementa Pinckney and congregants Depayne Middleton-Doctor, Cynthia Hurd, Susie Jackson, Ethel Lance, Tywanza Sanders, Daniel Simmons, Sharonda Coleman-Singleton, and her best friend Myra Thompson.
Four years to the day of the massacre, Emanuel, a documentary recounting their story, will open in over 1,000 theaters nationwide on Monday. Members of all nine victims' families participated in interviews, along with survivors such as Sheppard, local reporters, the Charleston mayor, and the Charleston police chief. The film examines societal effects of racism—for this particular historic church and in the American South at large—before transitioning to the massacre and the victims' loved ones' subsequent acts of forgiveness.
"This film is not just about racism—it's about grace," said director Brian Ivie, who worked on Emanuel for three years. "It's a story of a group of people who decided they were going to bear the full weight of the wrong and still wish good upon the wrongdoer. That is the highest form of love possible, a love that Jesus Christ perfected."
Emanuel opens at a time when stories of people of color drifting away from evangelical churches due to increasing politicization of the gospel have made national news.
"It's a hard movie to watch, …

Source: Christianity Today Most Read