Our most effective weapon against injustice is carried and concealed in our hearts.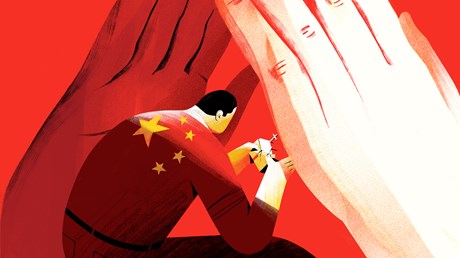 The tanks don't always stop in China, as they did when the world watched a lone, brave man stand in Tiananmen Square and face down tanks designed to quell opposition to the government.
Few were watching in 2016 when the Reverend Li Jiangong and Ding Cuimei, his wife, stood before a bulldozer ordered by the government to demolish their church.
"Bury them alive for me," an angry member of the demolition team reportedly said.
The bulldozer did. Li managed to scratch his way out. But his wife didn't make it.
That turned out to be a step too far even for the Chinese government at the time, which soon hauled the demolition team in for questioning. But the deed was done—and whether politically intentional or not, it is a symbol of a brutal repression of the Chinese church that is only gaining momentum.
Since the Communist takeover, the church has always been subject to repression by authorities. But slowly since 1982, the government had been giving the church space to breathe. As late as the spring of 2011, Chinese officials were saying publicly that "religion is good for development," according to a 2012 report in Foreign Policy. The government donated land, built churches, and authorized research on positive Christian contributions to society.
Under the current administration of President Xi Jinping, however, the government is tearing down some churches (like the 50,000-member Golden Lampstand Church in Shanxi Province in January) and closing others (most notably, Zion Church, Beijing's largest house church). The Chinese government is working furiously to recreate the church in its image. Regulations announced last year formalized policy that has, in practice, been in effect for some …

Source: Christianity Today Most Read