Other than God and people, they're the most mentioned living thing in the Bible.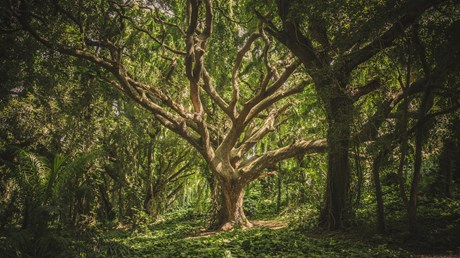 I've always loved trees. I love their look, their shade, the sound of wind in their leaves, and the taste of every fruit they produce. As a grade-schooler, I first planted trees with my father and grandfather. I've been planting them ever since. Once, as I was training to become a doctor, my wife and I tree-lined the whole street where we lived. But a dozen years ago, when I offered to plant trees at our church, one of the pastors told me I had the theology of a tree-hugger. This was not meant as a compliment.
The church was a conservative one. It believed that Scripture is the inspired, inerrant Word of God. That's why we went there. As one member explained to me, "Once you get onto that slippery slope of liberalism, who knows where you'll end up."
My first reaction to the pastor's comment was, "Maybe I'm wrong. Maybe God doesn't care about trees."
Back then, our whole family was new to Christianity. My daughter hadn't yet married a pastor. My son wasn't a missionary pediatrician in Africa, and I'd yet to write books on applied theology or preach at more than a thousand colleges and churches around the world. What did I know about the theology of trees?
But ever since I encountered the gospel for the first time in my 40s, the Bible has been my compass. So when I was called a tree-hugger, I turned to Scripture to get my bearings.
God Loves Trees
Other than people and God, trees are the most mentioned living thing in the Bible. There are trees in the first chapter of Genesis (v. 11–12), in the first psalm (Ps. 1:3), and on the last page of Revelation (22:2). As if to underscore all these trees, the Bible refers to wisdom as a tree (Prov. 3:18). …

Source: Christianity Today Most Read