Rainbows signify something more than a post-Flood peace offering.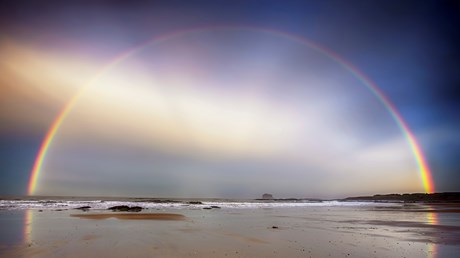 There is more to a rainbow than meets the eye. In one sense, I mean that literally: The human eye cannot see the colors at either end of the spectrum, despite the pictures you see in children's Bibles. But in another sense, I mean it symbolically. The rainbow carries a number of meanings in Christian thought to which many of us are blind. I count at least five.
Rainbows mean beauty. This is true for everyone, whether or not they have ever heard of Noah. Few things in creation compare to the beauty of sunbeams colliding with waterfall spray, as refracted shards of color scatter in all directions. When Ezekiel is trying to describe the indescribable—"the appearance of the likeness of the glory of the Lord" (1:28)—he draws on the most splendid images in creation, like an expanse of glittering crystal (1:22) or a sapphire throne (1:26). But his portrait culminates in the dazzling brightness of "a rainbow in the clouds on a rainy day" (1:28). Rainbows testify to the abundant beauty of the God who makes them.
Their gorgeous appearance results from the fact that they display unity in diversity. In a rainbow, one color (white) is shown to be many (red, indigo, yellow, and the rest), and many come together into one. That fusion of color is one way of looking at the ecclesiology of Revelation: The people of God are pictured as warriors, witnesses, worshipers, and wedding guests wearing white, yet also as a multicolored, multiethnic multitude, a city adorned by precious stones of all colors, from jasper to sapphire, emerald to amethyst. (This point is obscured today, because we use the word white to refer to people who patently aren't. Nobody called themselves white until the 17th century, …

Source: Christianity Today Most Read