Why have so many modern novelists and poets chased after (and fled from) God?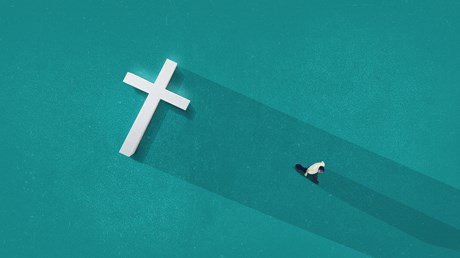 The metaphors we use in given situations show us more about our assumptions than we often realize. In politics, we speak of the "arena," our "opponents," or even "battle lines." Our language betrays a hostile environment filled with warring parties. When we discuss education, we may refer to "values," "costs," or "benefits," revealing economics as our lens for assessing learning.
The title of Richard Harries's book, Haunted by Christ: Modern Writers and the Struggle for Faith, revolves around two contrasting metaphors for writers and religion. On the one hand, Christ is scary, unpursued, and ephemeral, haunting writers like a ghost. In the subtitle, though, the writers are active agents wrestling with an unknown entity, like Jacob with the angel, for the prize of faith. Harries explores both types of artists in his book, those who flee religion and those who chase it. He focuses primarily on those who lived in the 20th century, starting with 19th-century novelist Fyodor Dostoevsky and ending with modern writer Marilynne Robinson.
The Pull of Religion
Harries chooses his 20 novelists and poets from those "who have meant a great deal to me over the years [and] for whom the pull of religion has been fundamental." His book consists of revised talks on his chosen writers given over the course of a 30-year career. As a retired Anglican bishop of Oxford, he attends more to Oxford-based writers than American readers may expect. Each chapter begins with a brief biography, but key details are sometimes omitted (such as the writer's homeland), and the pages are littered with misprints and dated references. (At one point, Harries describes a …

Source: Christianity Today Most Read