We've never regretted saying no, but his words still haunt me.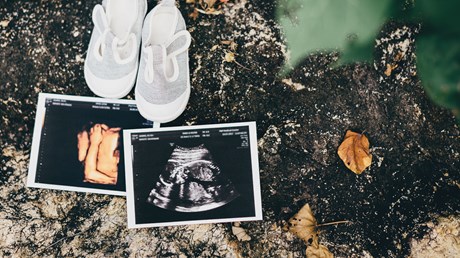 I was a little over halfway through my pregnancy when my husband and I sat gripping each other's hands while a specialist gesticulated as he described the options for our unborn baby. We could opt for life-saving surgeries, we could give her comfort care once born but allow her to die without intervention, or we could choose to abort.
"The root of [the word] disaster means a star coming apart, and no image expresses better the look in a patient's eyes when hearing a neurosurgeon's diagnosis," says the late Paul Kalanithi in When Breath Becomes Air. A star coming apart perfectly describes how it felt to be told that our daughter had a severe heart defect that would kill her soon after birth without medical intervention.
When the word abortion was brought into the conversation, my hand involuntarily reached out in a painful appeal to leave that option off the table. He brushed my objection aside, "I know that many parents don't want to hear about this option, but I legally have to tell you." He continued describing what abortion would look like in some detail, then the medical team melted off into the hospital.
This moment has haunted me for years, and it has come to mind as pro-choice and pro-life positions are again debated in many states, much of the argument being over "nonviable pregnancies" or "medically fragile fetuses." Some of the debate surrounding new bills and legislation is over what it looks like to show compassion to parents and to unborn babies when faced with serious, life-threatening birth defects. A baby with any birth defect—life threatening or not—challenges us personally and as a society to examine what our values are. The …

Source: Christianity Today Most Read