A minister to death-row inmates on bearing witness to a prisoner's final moments.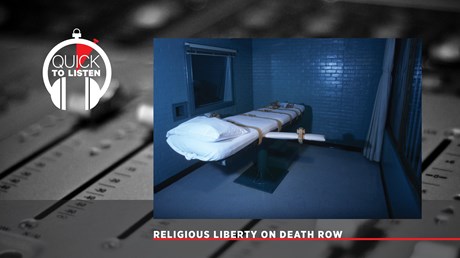 Last month, the Supreme Court ruled that Texas could not execute inmate Patrick Murphy if they did not allow his Buddhist chaplain into the death chamber with him. In response, last Thursday, the state of Texas decided to ban all chaplains from entering the death chamber with inmates.
Patrick Murphy's situation echoes the story of Alabama inmate Domineque Ray. Ray, who was executed in February, requested to have his imam be present with him in the execution chamber. Ultimately, his request was denied and Ray was put to death without the presence of his chaplain.
Chaplains serve many roles in the final moments of an inmate's life, including comforting family members, says Earl Smith, who served for decades as a death row chaplain in San Quentin State Prison in California. When they're kept from inmates in their final moments, it can mean there's no one who is able to relay the individual's last words.
"That inmate was looking for a way to say 'bye' in peace and because you said 'No, you can't have [the chaplain],' even in his death, there was no peace," said Smith. "We often say that when they're executed there's going to be closure. Executions don't bring closure. They just mean someone has died."
Smith joined digital media producer Morgan Lee and theology editor Caleb Lindgren to discuss why Christians should want all death row inmates to be able to be with their chosen chaplain when they die, what it's like to spiritually walk with prisoners, and the surprising circumstances that led to Smith winding up at San Quentin.
This episode of Quick to Listen is brought to you in part by Bloodline, the new book by Skip Heitzig, …

Source: Christianity Today Most Read