Ann Voskamp and photographer Esther Havens document the moment a new Bible translation arrives in a rural Kenyan community.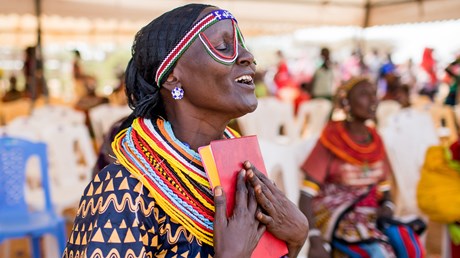 The word of God comes riding in on a camel. It's a kind of modern-day Palm Sunday in Northern Kenya, the nomadic Rendille people waving their worn sticks instead of palm branches, the Word of God itself stacked in bound cardboard boxes, lashed to the hump of a swaying dromedary.
More than a thousand Rendille and dozens of distant neighboring tribespeople have gathered in the stifling heat, with ready smiles and raised hands, to greet the completed New Testament in their own mother tongue. They have been parched for living water under the desert sun for decades—centuries—and this day is nothing short of a resurrection coming. Dancing women stir the dust with their feet, thousands of beaded necklaces rattling like rising bones, and they point out how even the Word-carrying camel can't seem to stop grinning.
The Rendille translation is one of more than 120 nearing completion in Africa alone in 2018. Over three decades ago, two faithful missionaries and two deeply committed Rendille tribesmen began laying the foundation for this day when they set out to translate parts of both Testaments into the Rendille language. Their painstaking work finally came to fruition in the last three years, thanks to technology and consulting methods beyond those early missionaries' wildest imaginings and to partnerships between groups including Wycliffe, Seed Company, BTL Kenya, and Africa Inland Mission.
Which is what makes today, the day the Good Book comes, seem like a divine visitation.
Pastor David Gargule, a native Rendille who holds master's degrees in theology and in organizational leadership and management, has returned here to the desert, because what would it be to find success in the world if his own …

Source: Christianity Today Most Read