What space exploration tells us about human curiosity, from Eden to Mars.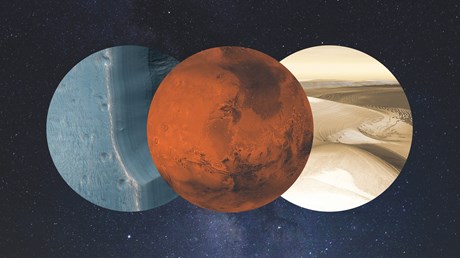 Blue is the color of Mars at sunset. From the surface, the cold, dim light of the setting sun comes in from the horizon as it competes with the ever-present dust, thick in the air. The plains of graveled hematite that were once shades of ochre and umber by day are now jet and onyx.
In the darkness, Mars may seem to be a dead planet. But in Gale Crater, there is human movement, as NASA's Curiosity rover slowly treks its way up the shoulder of Mount Sharp.
Mars is not the dying planet sprung from the imagination of writers like Edgar Rice Burroughs and Ray Bradbury. Mars is more alive than ever—increasingly populated over the last two decades with the robot explorers of an emergent humanity, propelled by a sense of curiosity that infects our species.
Ecclesiastes 1:13 calls humanity's curiosity about the universe both a "heavy burden" (in the NIV), but also a gift "given to human beings" by our Creator (in the NRSV). Everyone loves, but God calls us to a higher love. Everyone is curious, but God calls us to a higher form of curiosity.
Last month, after nearly two years of testing and repairs, the Curiosity rover is again drilling into Martian rock in its bid to discover whatever secrets may be hidden within. One of the keys to unlocking those secrets is an instrument the car-sized vehicle carries called the ChemCam, an onboard spectrometer that uses a laser to vaporize Martian rock and then, by reading light waves, can measure the rock's chemical and mineral makeup.
"Exploring the universe around us is a very God-given activity—to follow our curiosity and to continue the work of exploring God's creation that has [already] begun," explains Roger Wiens, a scientist …

Source: Christianity Today Most Read