How violence and terror in their homelands spurs migrants to come north.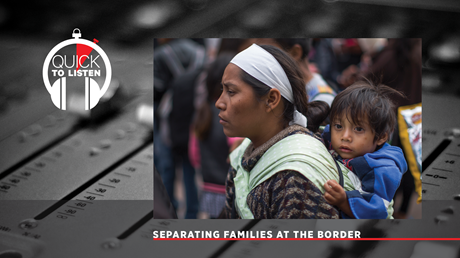 Last month, US Attorney General Jeff Sessions vowed to enforce a "zero tolerance" policy when it comes to immigration. Here's one way he described how this would look:
"If you are smuggling a child, then we will prosecute you and that child will be separated from you as required by law," he said. "If you don't like that, then don't smuggle children over our border."
Months before he made this promise, Sessions had already started making good on it. Three weeks prior, the The New York Times had reported that since October, more than 700 children have been taken from adults claiming to be their parents, including more than 100 children under the age of four.
As Sessions' immigration policies have drawn national attention, evangelical leaders have been increasingly speaking out. A letter from the Evangelical Immigration Table said this to President Trump:
While illegal entry to the United States can be a misdemeanor criminal violation, past administrations have exercised discretion in determining when to charge individuals with this offense, taking into account the wellbeing of children who may also be involved. A "zero tolerance" policy removes that discretion—with the effect of removing even small children from their parents. The traumatic effects of this separation on these young children, which could be devastating and long-lasting, are of utmost concern.
Other Christian female leaders also started a #notwithoutmychild campaign in which they wrote a letter with more than 2,500 signatures to Sessions and Department of Homeland Security secretary Kirstjen Nielsen.
Sister Norma Pimental, the executive director of Catholic Charities of the Rio Grande Valley …

Source: Christianity Today Most Read