The deeply flawed Old Testament "hero" was set apart for a very specific purpose.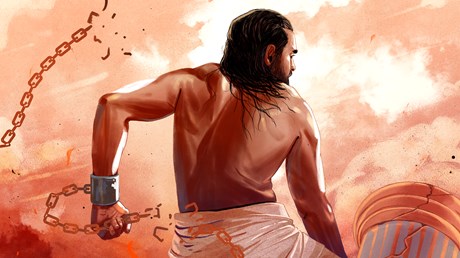 Growing up in church as a scrawny kid, I was captured by stories of David slaying Goliath, Gideon defeating the Midianites, and especially Samson taking out 1,000 Philistines practically barehanded. While I loved the daring of those figures, I was also taught to be careful about the temptations of great champions: David's moral failure and desperate attempts to cover it up, Gideon's late-in-life slip into creating an idol and snare for his family, and the dramatic and colorful life of Samson and his sensational self-destruction.
All of these stories served as lessons to us that great strength demands responsibility, and there is danger of misusing those gifts. The consecrated life demands constant self-examination and moral integrity.
When I re-read the account of Samson recently, in Judges 13–16, I was looking for that lesson I had been taught as a young man. But it wasn't there. Instead, what I discovered was a new way of looking at what it might mean to live a consecrated—but empty—life.
Can a fool with no redeeming qualities still be consecrated? The conclusion I came to after re-reading the tale of Samson surprised me.
The hero Israel deserved
Samson was a miracle child announced by the angel to his mother and father—like Samuel, John the Baptist, or Jesus—so it's easy to expect great things from the beginning. Why else would there be so much preparation for his arrival? Fully a quarter of his entire story is spent on the buildup to his birth, so it makes sense to assume after his miraculous birth announcement that he will have a life and calling to match. Anxious to believe he will be the one to deliver the people from their oppression and rebellion against God, we soon …

Source: Christianity Today Most Read