Jonathan Wilson-Hartgrove's necessary rebuke on race rests on a sadly truncated gospel.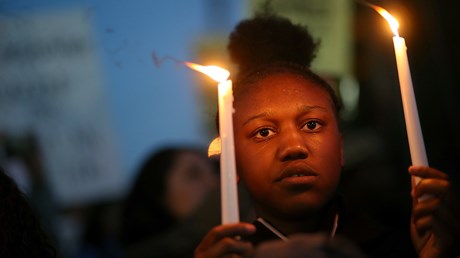 In 1846, the abolitionist Samuel Brooke published a book called Slavery, and the Slaveholder's Religion; as Opposed to Christianity, in which he condemned human bondage as "the violation of every principle of human brotherhood, of natural right, of justice, of humanity, of Christianity, of love to God and to man."
Like so many of his fellow abolitionists, Brooke wanted to prick the conscience of a religious tradition that sang songs of praise to God on Sunday and whipped slaves on Monday. In Reconstructing the Gospel: Finding Freedom from Slaveholder Religion, writer and activist Jonathan Wilson-Hartgrove attempts to take up this mantle, arguing that today's white evangelical movement remains beholden to a racial ideology that hijacks and distorts the true Christian faith.
Wilson-Hartgrove doesn't approach the topic of race as an expert, though his experience moving into a majority-black neighborhood in Durham, North Carolina, gives him a proximity not shared by many of his fellow white Christians. Yet he offers a remonstrance that many white Christian leaders desperately need to hear. He traces fault lines in American Christianity that have roots in the nation's founding and shows how white evangelicals have often baptized white supremacy either by endorsement or silence.
We are tempted, of course, to assume that we are well beyond our racial tensions, being more than 150 years removed from the Civil War and more than 50 years removed from the passage of landmark civil rights legislation. But significant tensions remain, and systemic racism, more subtle and pernicious than white bed sheets or lynching trees, still causes suffering for African Americans. Wilson-Hartgrove makes a persuasive …

Source: Christianity Today Most Read